Information Retrieval
The Information retrieval page is used to compile and execute search inquiries. You can search messages both in MailNavigator's archives and in any external mail archive. At the time of writing, the archives of the following popular mailing programs are accessible: MS Mail, MS News, MS Outlook, Outlook Express, Netscape Messenger, Eudora, Forte Agent, Pegasus Mail, The Bat, Eserv, Fidonet mail, etc.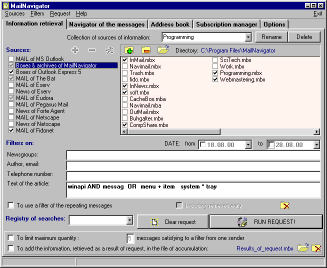 To establish archives which are accessible to search, first add the directory for the external mailbox files (menu: Sources | Add Directory). When you add a directory, MailNavigator, in most cases, will find the relevant files in which messages are stored, and will show them in the list of files to the right of the list of the directories. You can also add files in this list independently by selecting Sources | Add Files.
After the files appear in the list, select the checkbox next to the file to include it as one of the sources for your search. If you want the search to perform on all files in the current directory, select the checkbox for that directory.
If in the future you want to use a specific set of source files, within which to search messages, you can select from the list of files in the collection of information sources.
After you indicate the message sources, you are ready to define your filters. For filters on: Newsgroups, Author, email address, and the message text, the filter works with standard operators: OR, AND, NOT, NEAR, and their synonyms. In most cases, it is enough simply to enumerate search keywords.
After you define filters and information sources, the RUN REQUEST! button will be accessible. Press it or press the Enter key to start the search.
When the search is completed, all messages which match the filters you entered will be displayed as a browsable listing in the Messages navigator.




Home
MailNavigator
DBX, MBX, PST file format Reader